Yamaha Motor Manufacturing Donates New Golf Cart to Help Patients of Piedmont Newnan Hospital
Mar/03/2021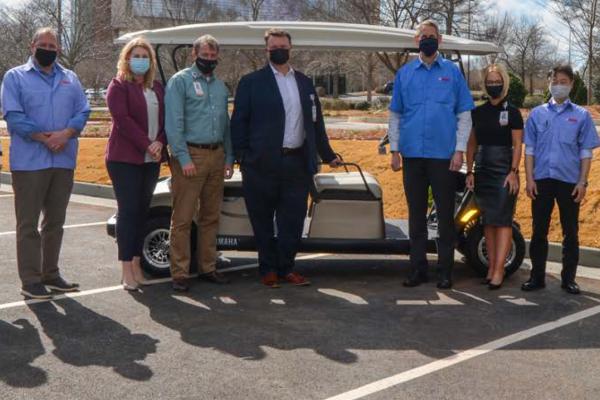 Newnan, Ga. (March 3, 2021) – Yamaha Motor Manufacturing of America in Newnan recently donated a new golf cart to Piedmont Newnan Hospital. The golf carts are driven by hospital volunteers and provide a free shuttle to those coming into and leaving the hospital.
"Yamaha has been a great partner and supporter of our hospital over the years and we thank them for their continued generosity, not only to our hospital but also to the community as a whole," said Mike Robertson, CEO of Piedmont Newnan. "With our continued growth, having an additional cart will allow us to serve more of our community who may have difficulty walking to and from our facilities."
With Yamaha's generous donation, the hospital now has three golf carts in operation. With the recent opening of the new Piedmont Medical Plaza II and the increase in patient volumes, the additional golf cart allows the cart service to provide rides to more people on the hospital campus without long wait times. Whether a patient or visitor has impaired mobility, health risks that prevent them from walking long distances, are accompanied by small children, or are just along for the ride, Piedmont's volunteer cart drivers provide shuttle services rain or shine and the hospital has implemented COVID-19 safety measures to keep riders safe.
"We are very pleased and proud to facilitate this important donation of a new Yamaha golf car to our local Piedmont Newnan Hospital", said Mike Chrzanowski, Chairman of YMMC. "The hospital clearly supports the health and wellbeing of our community and their level of care and support to the citizens of Coweta County and the surrounding area particularly during that past year of COVID challenges has been second to none!"
"Supporting the local community is something that Yamaha takes seriously and we couldn't think of a better cause than helping the patients, visitors and staff of Piedmont Newnan Hospital navigate through their parking complex," added Tom McDonald, President of Yamaha Golf Car Company.
This is the second golf cart Yamaha has donated to Piedmont Newnan since the hospital opened its new campus on Poplar Road in 2012.
In addition to donating golf carts, last year, at the start of the COVID-19 pandemic, Yamaha donated a large amount of supplies to aid the hospital in protecting healthcare workers amidst the COVID-19 crisis, including respirators, gloves, Tyvek suits and alcohol wipes.
"The care we provide each day to our patients, especially during these times of crises, wouldn't be possible without the support of our community," said Vicki Kaiser, Executive Director of Community Affairs, Oncology and Support Services at Piedmont Newnan "The pandemic is not over but there is reason to be optimistic and these acts of kindness shown by our community partners helps encourage our team to push through as we strive to make a positive difference in every life we touch."
Piedmont Newnan is a nonprofit community hospital. As a nonprofit, donations are a vital to supporting our mission, and directly benefit the health and wellness of patients in our community. For more information on how to give, visit www.piedmont.org/give.