About Yamaha Motor Manufacturing Corporation of America
Yamaha Motor Manufacturing Corporation of America (YMMC) is a product manufacturing affiliate of Yamaha Motor Corporation (YMC) and a subsidiary of Yamaha Motor (YMUS). YMMC develops, tests, fabricates and assembles a range of products including ATVs, Golf Cars, Water Vehicles and Recreational Off-Road Vehicles (Side by Sides). We produce for global distribution. If you purchase a WaveRunner in Australia or a Golf Car in Japan, it was assembled here at YMMC in Newnan, Georgia.
Our Campus
The Newnan Yamaha Campus includes 1,355,000 sq feet across six buildings on 280 acres. We employ over 2,000 team members, allowing them to have a good standard of living. Our Newnan facility was founded in 1986. Production started 1988 with golf cars. Since then, we've produced over 4 million vehicles. That means we've generated tens of millions of exciting and memorable experiences for our end customers. In order to be more responsive to our customers and dealers we are investing in a new SMART (Sequenced Material and Reduced Transportation) distribution facility, which will be our seventh building on the campus. This re-investment in our campus shows Yamaha's dedication to staying in Coweta County as a vibrant leader in our community.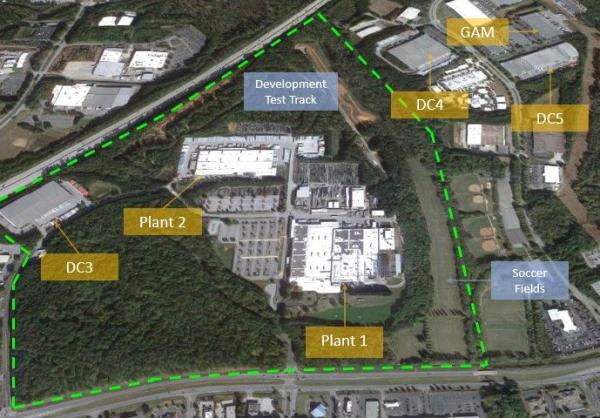 Our Mission
There's a Japanese word we love that has no direct English Translation. Kando means the simultaneous feelings of deep satisfaction and intense excitement that we experience when we encounter something of exceptional value. At Yamaha we strive to be a Kando Creating Company. That means we offer new excitement and a more fulfilling life for people all over the world. Yamaha strives to realize peoples' dreams with ingenuity and passion, and to always be a company people look to for the next exciting product or concept that provides exceptional value and deep satisfaction.
Five Shared Values for Creating Kando
Yamaha expresses the "unique style of Yamaha" with its shared values of Innovation, Excitement, Confidence, Emotion and Ties.
Incorporating the unique style of Yamaha into all processes and levels of our corporate and business activities is how we enhance the qualities that make us unique.
We believe that doing so is the way to meet customer expectations and the fuel to further raise our competitiveness.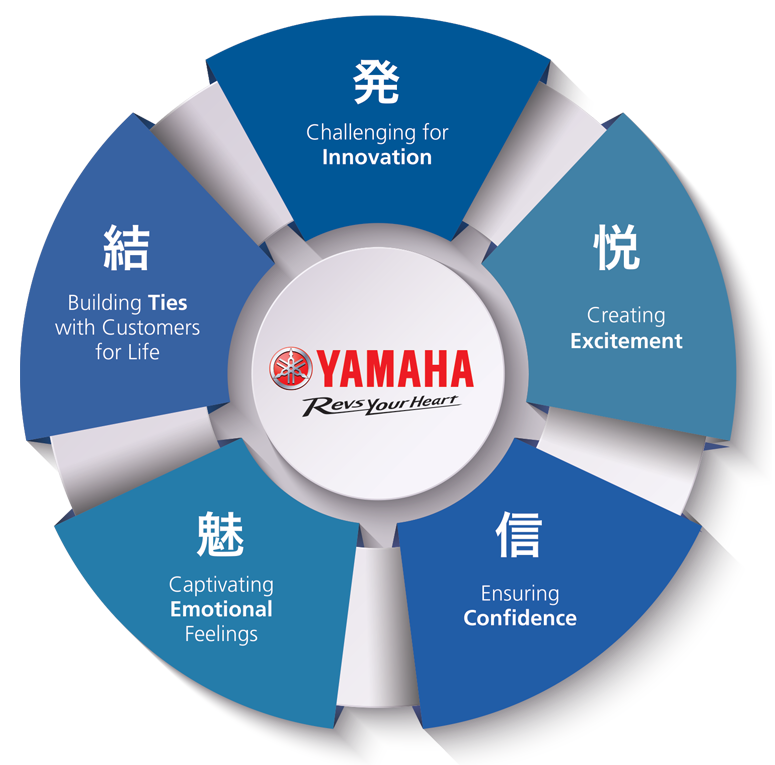 Our Management Principles
01
Creating value that surpasses customer expectations
To continue to produce value that moves people, we must remain keenly aware of customers' evolving needs. We must strive to find success by always surpassing customer expectations with safe, high-quality products and services.
02
Establishing a corporate environment that fosters self-esteem
We must build a corporate culture that encourages enterprise and enhances corporate vitality. The focus will be on nurturing the creativity and ability of our employees with an equitable system of evaluation and rewards.
03
Fulfilling social responsibilities globally
As a good corporate citizen, we act from a worldwide perspective and in accordance with global standards. We must conduct our corporate activities with concern for the environment and communities and fulfill our social responsibility with honesty and sincerity.
Purchase a Product
Product Sales and Marketing is a function specific to YMC, YMUS, and YGC. That means we do not directly sell our products to the public or service them. Our partners utilize a network of dealerships for that purpose. We also do not manage the dealership relationships or certify new dealers.