Camp Invention innovates STEM learning sponsored by Yamaha
Jan/18/2022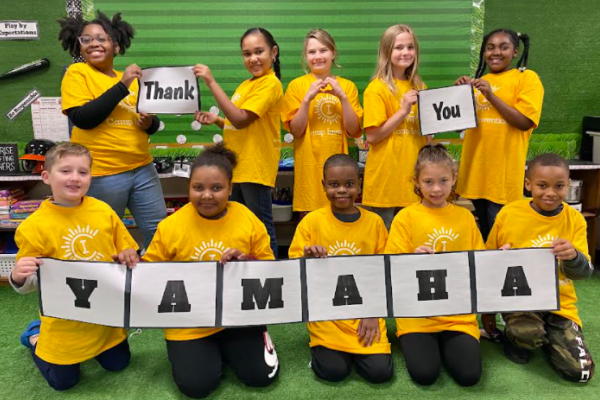 "Who wants to Duck Chuck?!" If you were a student involved in the Camp Invention, a Science, Technology, Engineering and Math (STEM) camp for kids, you got to Duck Chuck, Road Rally, and participate in other inventive science experiments during winter break. To broaden their possibilities, students from Title I school Ruth Hill Elementary were granted scholarships from Yamaha Motor Manufacturing Corporation in Newnan. Duck Chuck was an experiment that propelled a "duck" through the air while teaching students about velocity and trajectory. "It was my favorite part of camp" said student Jaxon Styles.
Mary Thompson, a REACH/gifted and advanced content teacher at Ruth Hill Elementary and one of the coordinators and coaches of this winter's Camp Invention said, "Camp Invention is a grades K-6 camp that encourages innovation and entrepreneurship incorporating STEM."
It's a nonprofit curriculum program highlighting contributions from the National Inventors Hall of Fame inductees. This session of Camp Invention was virtual – students were given science packs that correlated with a different day of camp. Camp would gather via zoom where instruction and problem solving would take place.
"Embedded in the curriculum, along with learning about a variety of inventors and inventions, children are challenged to use recyclables in creating their projects. Students also learn to think out of the box, using items for different uses," says Thompson. The camp was hosted by Ruth Hill Elementary School, but broadcast online via zoom to students from all over Coweta County.
The curriculum for this winter's camp included: Open Mic™ where campers amplified their creative voices through reverse engineering a wireless microphone and then developed and promoted their own extraordinary invention; Duck Chuck™ where campers built their own device to launch rubber ducks and experimented with trajectory and velocity; Road Rally™ where campers designed nature-inspired vehicles that could zoom across land and have prototype elements for moving through air and water; and SolarBot™ where campers take care of their very own solar-powered robotic cricket and created protective gear, a customized habitat and a fun cricket playground. Griffin Hopkins "loved to be able to create whatever I wanted" and create he did – a futuristic vehicle out of clay. It was just another day at Camp Invention, where young minds investigated, modeled, and experimented with lots of experiential tools, such as modeling clay. On another day, Leah Wildes commented the Open Mic was her favorite part because "I felt like myself when I was allowed to play around with the mic and see what was built inside of it." Yamaha sponsored 10 students this winter's camp and gave the same amount in scholarships for last Summer's Camp Invention, as well. Ms. Thompson said, "We are incredibly grateful for Yamaha's partnership in supporting the Camp Invention programs at Ruth Hill Elementary and helping create an even playing field between underserved children and their peers!"
Bob Brown, the VP of Finance and Operations Support with Yamaha said, "STEM education is an important factor to be able to provide innovation and critical thinking in future generations of employees in industries, such as Yamaha. Experience at a young age with understanding how science works in everyday situations helps future employees critically think about problem solving in manufacturing situations like we have at Yamaha in any capacity from design, supervision, or assembly." Yeah, but can you chuck a duck at work? "There are safety protocols that prohibit projecting things on the assembly line floor at Yamaha," said Bob Brown with a laugh. Yamaha Motor Manufacturing Corporation of America designs and assembles WaveRunners, ATVs, Side by Sides, and Golf Cars at the Newnan plant. One of Coweta County's largest private employers, Yamaha is currently expanding the team, hiring another 200 contract employees. Most jobs with Yamaha start Contract at $18 per hour and are eligible to be full hires in 30 days. Details are at yamahajobs.com.