In the Community
Yamaha Motor Manufacturing Corporation of America is a corporate leader in community engagement. We leverage our unique style of Yamaha to contribute to the resolution of social issues. By working together with the community we live in to make it better, we form a bond of trust and harmony with our neighbors. Not only is Yamaha a great place to work, our team members are proud of the work we do in the community. Nearly all of Yamaha's corporate giving is funded by our recycling program.
Team Volunteering
While support in other areas may be considered, our corporate giving philosophy focuses its support towards qualified 501(c)(3) or state/local government 170(c)(1) organizations which provide services in the following focus areas:
Developing Future Leaders through promoting youth activities, leadership, character development and education, with a particular focus in STEM education (science, technology, engineering and math)
Local Emergency Support Services including fire, rescue and law enforcement
Environment conservation, improvement, or biodiversity
Safety in the workplace, home or outdoors
Basic Human Needs including food, clothing, shelter and medical care/support to help develop economic self-reliance and create pipelines to employment.
Recent donations have been given to organizations like the Chattahoochee Riverkeeper. Our giving allowed 300 children to learn about environmental science, sustainability and clean waterways while experiencing it firsthand on a floating classroom. This STEM education opportunity is just one of the many we support each year.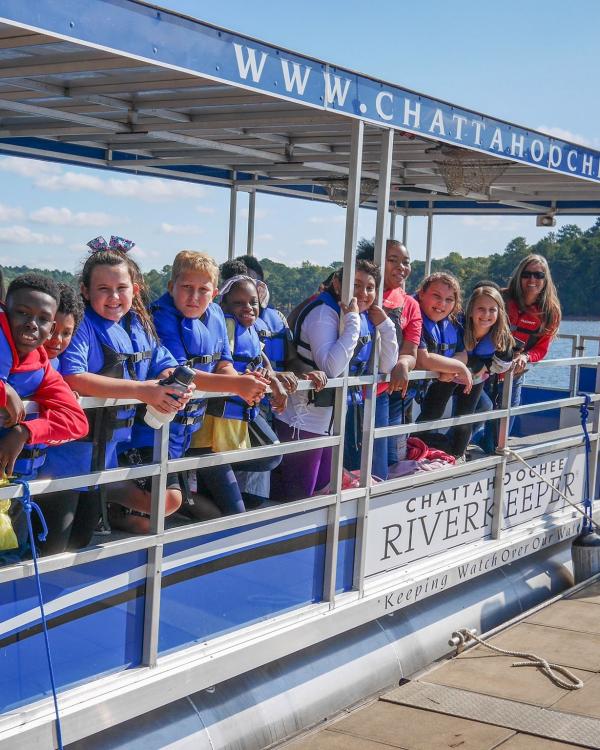 An Opportunity to Shine
Recent donations have been given to organizations like Ruth Hill Elementary's Camp Invention. Our giving allowed dozens of children to attend Winter and Summer camp, and 30 of the company's employees donated time and skills to help with hands-on learning in the camp classrooms.
Yamaha's Manufacturing Engineering Department played a key role in making the partnership happen. Max Sewell, one of Yamaha's team members who volunteered with the initiative said," It Didn't take long to see the "Oh wow!" moments with this group of students. From day one we felt that the group wanted to be challenged. It didn't matter whether the results of their experiments exceeded or didn't quite meet their expectations, they were already looking for ways to improve them. It is encouraging to see so many enthusiastic students with their teachers learning the basics of engineering and invention."

Team Volunteering
Yamaha's commitment to Community isn't just through straight donations. We also encourage our team to volunteer, and we back that up with a promise. As our team turns in the hours they have volunteered with a nonprofit, we donate $20 for every hour back to the organization they supported.
Giving Back With Our Employees
Yamaha commits to give as our employees give. We match donations up to $1000 per employee per year to the nonprofits and organizations that are important to them. Each year a portion of our giving is designated to scholarships for the children of our Yamaha employees. We believe that developing future leaders starts at home.
After the Tornado
We occasionally identify projects in the community that fit our core values and corporate strengths. For example, in 2021 when the F4 tornado hit Newnan and Coweta County, within days we loaned golf cars and side by sides to the police and fire rescue departments to check on people whose streets were blocked with trees and debris.
The Newnan High School Band's storage facility was decimated, and with insurance reconciliation and payments way off, we made sure they would have band instruments in time for their summer marching season. We coordinated with our affiliated company Yamaha Music, to reserve, ship and even store the instruments, even though those would usually need to be ordered months in advance. Get the full story in this video: