Yamaha Produces 4 Millionth Vehicle
Aug/12/2021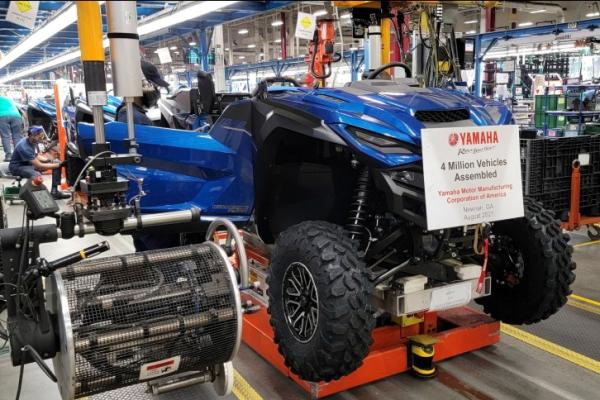 Newnan, Ga. – August 12, 2021 – Yamaha Motor Manufacturing Corporation of America reached a historic manufacturing milestone, celebrating the assembly of 4 million vehicles when a new 2021 Wolverine RMAX2 1000 Side-by-Side (SxS) rolled off the line at the state-of-the-art U.S. manufacturing facility in Newnan, Georgia.
All of Yamaha's Side-by-Sides, full-size ATVs, WaveRunners, and Golf Cars are produced for worldwide distribution at the Newnan factory campus.
"About the 4 millionth vehicle, I think it's amazing to be a part of a company this big. I think it's really awesome that we're assembling vehicles here and that all of the people in this community can be a part of that," said Frankie Teel, Safety Technician, who grew up in the area.
Paris Magallanes is a Design Engineer who was part of the team that created the RMAX 1000. He's proud of his work and the work of his team and said, "I love adventures with friends and family, going on side-by-side trips. It's very fulfilling to me to know that my passion for off-road vehicles can not only allow me to do this, but it can allow so many others to create lifelong memories with the people they care about, because of the work that I do."
In her 13 years with Yamaha Cost Planner Makiko Maekawa also worked on the new RMAX 1000, as well as ATVs, WaveRunners and Golf Cars, over the years. She credits Yamaha's ongoing success to the team. "I think what makes the team strong is that we have people from different backgrounds and opinions. What I enjoy most about my job is to see the development of a vehicle from an idea to everybody working together and then it being assembled here. It involves engineers, manufacturing, and suppliers because we all have to work together."
"Over the past 20 years, Yamaha has invested more than $380 million into U.S. manufacturing to create a world-class facility in Newnan," said Taka Imanishi, president of Yamaha Motor Manufacturing. "Whether it is our ATV or Side-by-Side vehicles, Golf Cars or Personal Watercraft, Yamaha strives to maintain the highest quality of production and environmental standards, while giving back to the community through comprehensive corporate social responsibility programs."
Since its founding in 1988, Yamaha Motor Manufacturing has made a significant impact within its community. The facility covers 280 acres with more than 1.3 million square feet of manufacturing facilities, giving it a massive physical footprint in Newnan. Yamaha employs over 2,000 people in Newnan, Georgia alone, encompassing nearly half of the 4,000+ individuals the company directly employs in the United States.
The company's impact on Newnan can be seen in many ways, from recent disaster relief donations to countless ongoing community engagement programs. Yamaha was recently highlighted in the season 19 premiere of "Modern Marvels: Machines" on the HISTORY® Channel, where the show went behind-the-scenes to shine a spotlight on the Yamaha factory and its employees.
Even with a team 2000 people-strong, Yamaha is currently hiring. Lissan Menendez knew about Yamaha from his father, a 20+ year employee. Right out of high school, he wasn't sure what he wanted to do, so Lissan started in the Warehouse. He figured out that IT was the right path for him, and now Yamaha is paying for him to get his degree in Computer Science, while he is getting real life experience as an IT Control and Asset Analyst. Lissan says, "I started at Yamaha as a temp and I worked my way up through the company. Being here at Yamaha and working for such a good company and seeing all the benefits Yamaha can provide for me, really helped me figure out where I wanted to be in life." To begin your career with Yamaha in Newnan, visit YamahaJobs.com.

###
ATVs over 90cc are recommended for use only by riders 16 years and older.
SxS Vehicles are recommended for use only by licensed drivers 16 years and older.
YMMC Assembles 4 Million Vehicles from Yamaha Motor Manufacturing USA on Vimeo.