Yamaha Selected Finalist for Social Impact Community Work
Dec/02/2022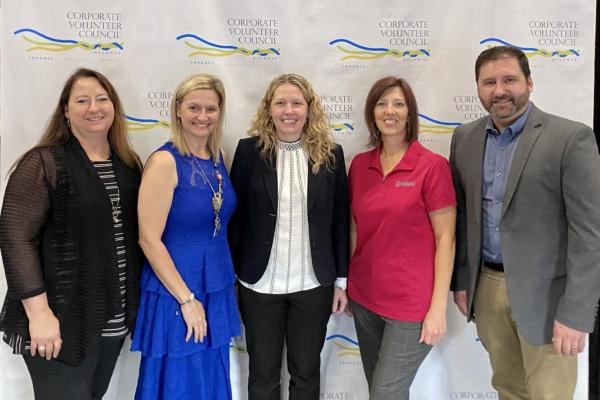 Participation in a key learning initiative for local elementary students has led to Yamaha Motor Manufacturing Corporation of America being nominated for a prestigious community service award.
Corporate Volunteer Council of Atlanta named Yamaha one of the finalists for this year's IMPACT Corporate Skills-Based Award, one of three 2022 IMPACT Awards for excellence in corporate social impact for Atlanta-based community work.
Yamaha was nominated for their participation and sponsorship of Camp Invention, a four-day camp in Coweta County for 132 students in kindergarten through sixth grade. Yamaha sponsored 20 of those students' participation in the STEM (science, technology, engineering and math) camp, and 30 of the company's employees donated time and skills to help with hands-on learning in the camp classrooms.
Yamaha's Manufacturing Engineering Department played a key role in making the partnership happen. Max Sewell, one of Yamaha's team members who volunteered with the initiative said," It Didn't take long to see the "Oh wow!" moments with this group of students. From day one we felt that the group wanted to be challenged. It didn't matter whether the results of their experiments exceeded or didn't quite meet their expectations, they were already looking for ways to improve them. It is encouraging to see so many enthusiastic students with their teachers learning the basics of engineering and invention."
The sponsored students were from Ruth Hill Elementary School, a Title I school in Coweta County. The financial support alone is significant because it can cost anywhere from $250 to $300 for a student to attend the camp. Add in the time commitment from employees and Yamaha's contribution was likely in the $10,000-20,000 range.
"I was thrilled that Yamaha made it to the finalist stage of the CVC Awards," said Mary Thompson, a REACH/gifted and advanced content teacher at Ruth Hill Elementary and one of the coordinators of the most recent camp. "Over the years I have made a rewarding relationship with Yamaha as they have supported students to go to camp on full scholarships. They have been a vital part in investing in the future of our elementary students in Coweta County."
Organized by the National Inventors Hall of Fame, which calls it a "confidence-boosting" event for students, Camp Invention is led by qualified local educators and offers new and exciting activities every year. More than 1,000 camp programs operate across the nation in schools, community centers and other facilities.
"Camp Invention encourages innovation and entrepreneurship incorporating STEM," said Thompson. "Embedded in the curriculum, along with learning about a variety of inventors and inventions, children are challenged to use recyclables in creating their projects. Students also learn to think out of the box, using items for different uses."
Yamaha officials recognize how vital it is for the generation coming up to be exposed to these kinds of education advantages in preparation for their futures in the global workforce.
"STEM education is an important factor to be able to provide innovation and critical thinking in future generations of employees in industries, such as Yamaha," said Bob Brown, the company's vice president of finance and operations support. "Experience at a young age with understanding how science works in everyday situations helps future employees critically think about problem solving in manufacturing situations like we have at Yamaha in any capacity from design, supervision, or assembly."
Yamaha Motor Manufacturing Corporation of America designs and assembles WaveRunners, ATVs, Side by Sides, and Golf Cars at the Newnan plant. One of Coweta County's largest private employers, Yamaha is currently expanding the team, hiring another 100 team members. Current openings include many professionals and skilled labor direct hires. Details are at yamahajobs.com.